An advert for a daily version of the UK National Lottery features Delaine, Bourne 136 (AD03OCT) driving through a puddle next to a bus stop.
This photograph shows 136 (left) at Showbus 2003 at Duxford.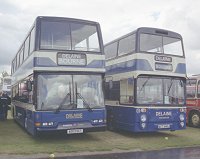 In another ad a hapless young lady goes through several misadventures before being splashed by a passing bus. Ian Hardie identifies the Dennis Dart as K831OKH of Imperial of Essex, new as London Buses DRL31; Steve Bunce saw the advert being filmed in Uxbridge in West London:
"The street is Old Windsor Street, no buses run on this road and the bus is not a local one. Behind the church at the top of the shot is Uxbridge Underground Station with access for emergency vehicles only to the Bus Station."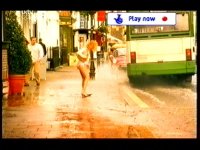 James Sadd notes the use of Redroute Buses C670LJR, a Leyland Olympian/Eastern Coachworks new to Northern General, in advertising for the Lottery's sponsorship of the Richard and Judy magazine show.