A red London AEC Routemaster is seen from the side on service 36, no fleetnames: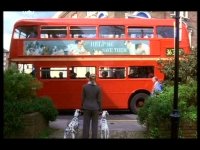 Soon afterwards a hallucinating Cruella de Ville sees a Dalmatian-spotted Routemaster passing on service 6 among other Dalmatian-spotted traffic and even people.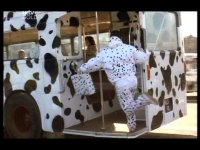 Hugh Padden notes Routemasters RM70 (VLT70) and RM429 (WLT429); the latter also appeared in
Shiner
.
Screencaps provided by e kline.