Steve Bunce notes:
"A thriller starring Robert de Niro as a New York cop. A street chase about half an hour in shows good views of a Bristol VR semi-open topper. The bus is halted and the camera moves around the bus at various angles. Others who know these vehicles may be able to ID."
There are a couple of early views of RTS transit buses, the first with the faintest hint of a Bristol VRT semi opentopper in the distance. It's likely the RTS in these caps is the same bus seen twice; it's an ex Orange County GMC RTS Mk IV new in 1980 and provided for the movie by
Regional Transit Service
in whose fleet it carries fleet number 3037: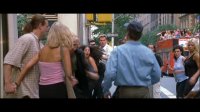 ....but my guess would be this is the same bus (D228)that appears almost immediately after. Note the conversion of the bus to a single offside (from a UK perspective) centre entrance door, also that the bus is described as a 68 seater, rather than the 74 seat capacity it was originally built with.