A scene in deserted London shows ex-London Transport AEC Routemaster/Park Royal RM1245 (LDS210A, originally 245CLT) lying on its side in Whitehall.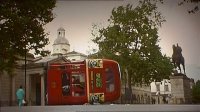 The bus was reregistered by Bluebird Buses, but acquired by Transport For London in 2001 for refurbishment. This evidently didn't happen, as filming took place with this vehicle in July 2001. (from my own observation, detail provided by Graeme Selway and Peter Relf. Graeme also notes a slightly odd look about the bus:
"looking from the rear end of the bus, you can see right through the top deck to a wall in front of the bus, but there would appear to be no front dome or upper deck windows although the rear dome etc is complete!"
). There is an unusual view of the underside of the bus: