In an echo of the Linda Thorson era
TV episode
'False Witness', the feature film shows Mother's office aboard a London Transport AEC Routemaster. It has a gold fleetname and flake grey stripe. Later in the movie a snow-covered Trafalgar Square (very obviously a model shot) has three not-very-good model AEC Regent IIIs,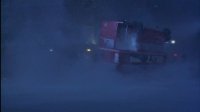 Comments from Ian at
The Prospero Files
(now offline):
"Vehicle coordinator for the Avengers movie Duncan Barbour bought three Routemaster buses from a guy in Chertsey who specialised in collecting old Routemasters. One was used as the visual 'mobile 'bus seen travelling through the streets of Avengerland,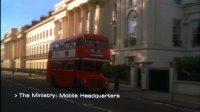 ...the second was prepared in such a way that the entire side could be removed in order to film the interior shots,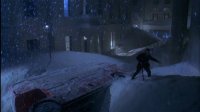 Incidentally the advert on the side of the bus for 'Tea' featured a picture of producer Jerry Weintraub's parents. When filming was completed the guy in Chertsey bought two of the buses back. As far as I know all the number plates featured in the movie with the exception of the Bentley's 'RT4700' were false."
Can anyone suggest identities for the three RMs?
A scene cut from the final version of the movie shows Steed hopping off the bus at Emma Peel's flat.