A London scene has a passing (postwar) AEC RT: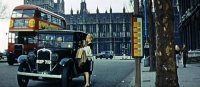 Mike Harvey notes the appearance of East Kent Leyland Titan TD4 JG8207.
"The film is set in France, England and Germany. It was premiered in Paris on 18 September 1959. Babette (Bardot) escapes from Northern France in 1940 and arrives with some good time girls by boat on the Kent Coast. From there they take a bus trip to London, being 'buzzed' on the way by a German warplane piloted by two French POWs who have escaped and stolen the plane from the German Flying School:
"JG8207 was new to East Kent in November 1936. It was a manual gearbox diesel Leyland TD4 with a six bay Park Royal L27/26R body of a style fitted to 135 East Kent TD4/TD5 chassis between 1936 and 1939, with some of the bodies supplied by Park Royal and some by Brush. In June 1949, JG8207 was rebodied by Park Royal with a five bay L27/26R body.