Two versions of a night out for four teenagers. Features Red Rover, Aylesbury, 3 (KGK741), an AEC Regent III RT/Craven formerly London Transport RT1482.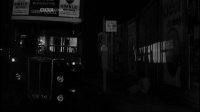 Despite the London destination blinds the adverts on the front of the bus are for Kimble Motors of Aylesbury. KGK741 is also seen in
The Young Ones
(1961).
Alan Sinclair recalls
"In one scene, the boys create a disturbance on a London RT bus . There are both interior and exterior shots of the vehicle. The conductor is played by Roy Kinnear, who gives evidence at the trial."