Features two coaches, the first BMK341A, a Harrington Cavalier-bodied AEC Reliance of Jack Crump of Pinewood Road, Iver Heath (thanks Jon Price):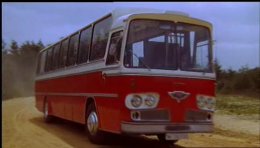 As the 'foreign' scenes were shot in Britain, all is not what it seems, but I'm indebted to Martin for identifying this as an AEC Regal VI with Jonckheere body new in 1965 to an coach operator in either Brussels or Luxembourg.
"It passed to JCB, Rocester in Staffordshire (yes that JCB!!) who registered it DRF588K in September 1971 (still in the same colours)."
Therefore it seems it was in JCB's ownership when 'Carry On Abroad' was filmed in April-May 1972. There would not have been many left hand drive coaches like this in UK ownership at this time. Incidentally the registration plates are mismatched and appear to be fake. (thanks also to Clive Lacey and Grant Morton)