Jon Price observes
"A personal favourite of mine; the only buses featured are a distant shot of a Northern General red BET saloon"
[presumably a Leyland Leopard]
" and Alexander bodied 'decker as Jack Carter chases Con and Peter from the B and B as the Pelaw Hussars march past:
[another Leyland Leopard]
"as Glenda rescues Jack.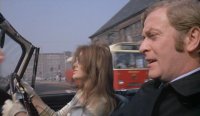 There is also a very quick rear view of a Tyneside PTE Alexander bodied Atlantean as Jack Carter goes to meet Brumby at his restaurant development atop the multi storey car park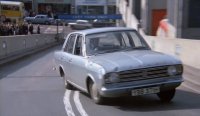 (Interesting that as the car park used for filming is in Gateshead, opposite the Bus/Metro station, so they must have used a different ramp for filming). Also quick shot of a green liveried Gateshead Alexander bodied 'decker as Brumby is thrown from the car park."