Exemplifies why Atkinson has a great future in straight roles - even his fans don't seem to have been that keen on this movie.
Footage of Beachy Head includes a VERY tiny Seaford and District open topper on the Eastbourne tour, you'll have to click on the thumbnail to see it: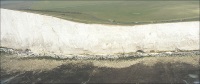 There's a contrived sequence where Johnny English in a VR headset mistakenly boards a passing open top AEC Routemaster and throws the tour guide off the upper deck. The bus inquestion is
Ensign Bus
RM371 (WLT371), suitably wrapped as a sightseeing bus. (thank you Steve Newman).