This MCI-9 appears in one scene: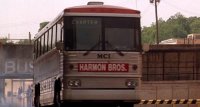 More interesting to UK viewers is this fascinating screen capture: (as above courtesy of the
Internet Movie Cars Database
):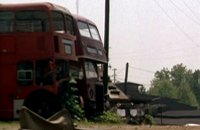 The scene was shot in Atlanta, Georgia, and these buses were with Grand Knight Tours. The nearer bus is a Bristol Lodekka FLF or FSF (if an FLF it's probably GRX133D (new to Thames Valley as D33); if an FSF it's 803MHW new to Bristol Omnibus as G6038 - but this is speculation); the other is very interesting. Formerly Barton 790 (XVO790), a Leyland Tiger PS1/1 rebuilt with a Northern Counties lowbridge body, it was exported to the USA in the 1970s. Thanks to Maurice Bateman, Michael Overcash and the guys at the IMCDB.