Donat plays a dying country vicar; there are two outside shots of Bedford OWB CDT673 and some interior views. Earlier there is a glimpse of what may be East Yorkshire 'Beverley Bar' type double deckers. (thanks Colin Read) In fact the OWB can also be seen on the stand: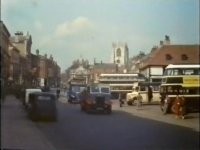 Mark Evans elucidates:
"The film's cathedral city location of Gilchester is in fact Beverley, where I went to school in the 1960s. Pupils from my old school were used as extras in some of the scenes. There is a brief glimpse, as Colin Read noticed, of a pair of East Yorkshire Motor Services' Beverley Bar-bodied double deckers. They are on the bus stand at Beverley's Wednesday Market and are Roe-bodied Leyland PD1s, which were the backbone of the EYMS fleet for many years. Bedford OWB CDT673 is in the cream and black livery of Cherry's Coaches, who ran a Beverley town service until selling out to EYMS in the 1990s. Indeed, a profile shot of the Bedford shows the fleetname to be covered over.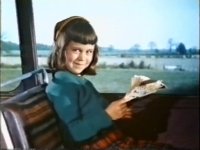 Martin Ingle notes:
"CDT 673 was new to Clifford and Sykes, Camblesforth in 1945 and passed to Cherry in 1951. It had a Duple bus body."
John Wakefield adds, CDT673's body
"looks to be a Duple Mark 2 bus body of which, according to Eric Ogden's Duple book 1976, 200 were built under Ministry of Supply contract from August 1945 followed by further contracts from the MoS during 1946. The curve at the back down from the narrow band between the beading would have been painted on at some later date. If you look closely you can see the beading going straight on."