As a film, it's for fans only. The tour bus is a wackily-painted Bedford VAL14/Plaxton Panorama I registration URO913E,
"supplied by Foxes of Hayes ( Middlesex) whose yard was in Featherstone Road, Southall. The yellow/blue basic livery of the Beatle's coach was Foxes' base livery."
(thanks Paul Hilton).
Allan Haynes was sound assistant on the film:
"The location was the RAF aerodrome at West Malling, near Maidstone, Kent, which was redundant and on a 'care and maintenance' basis. Ringo actually drove it in the film;
I think he must have had some previous experience as I saw him come back from a familiarisation run around the airfield perimeter, looking extremely confident."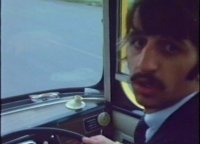 Allan also supplied some snaps from filming of the 'I Am The Walrus' segment - this features the Beatles as themselves and dressed as animals, thus:
Allan notes,
"The concrete wall in the background is part of an aircraft protection pen put up in the early days of the jet fighters."