David Frazer came across a
Hungarian website
with photos of British cars and buses used for a London-set scene, actually filmed on location in Budapest.
"The film, whose historical accuracy is disputed, tells the story of an Israeli intelligence team sent to assassinate Palestinians held responsible for the massacre of Israeli athletes at the 1972 Munich Olympics.
The photos show an RML, a Fleetline and an AEC Regent V. Reproduction advertisements have been added by the film's art department. There are also various seventies-vintage cars, some British and some not, including what must be the only Austin Maxi in Hungary. (It's left-hand drive, so I imagine that it was kept in the background.)
As you can see, the buses unfortunately don't look entirely correct for the 1970s setting, and one of them of course doesn't belong in London at all.
And here's an old Saviem bus used during 'Munich' filming in Paris. As with the London buses, the art department has put on reproduction advertisements.
A while ago I saw a photo of an old MAN (I think) bus painted in Paris colours for a scene set in Paris but filmed in Budapest, but I haven't been able to find it again."
The Regent V is ex East Kent MFN950F, the RML I believe is RML2476 (JJD476D),
any suggestions on the third vehicle?
Having seen the movie David adds:
"Along with plenty of classic cars there are several notable buses. It was filmed partly in Malta, and there are some classic Maltese buses popping up in scenes set in Israel and Cyprus (even though Israel drives on the right). A classic Paris bus -- a Saviem SC-10, I think -- appears a couple of times, along with an old Mercedes or MAN or something bus painted in Paris livery. (Most of the Paris scenes were filmed in Budapest, and the producers must have brought vehicles in from Germany. Because Hungary was part of the Soviet bloc, there probably aren't many western European cars from seventies there.)
We also see a GMC 'New Look' in Brooklyn and the flashbacks to the kidnapping in Munich involve a Mercedes coach used to take the hostages from the Olympic stadium to the airfield. And a Routemaster and a DMS show up in the background of a night scene set in London. There's plenty of rain, so they can't be seen clearly."
The GM New Look 'Fishbowl' seen in the later stages of the movie is this one, owned by a private collector: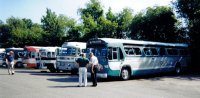 Alan Aron's photograph of it dates from 2002, when it was displayed at a Bus Show in Rocky Hill, Connecticut, USA.