Colin Read comments:
"Although a very enjoyable film, don't expect too much bus content. In fact it's all over in about five seconds (about one hour in when the children travel up to London)."
We get to see three AEC Regents from the
London Bus Preservation Trust
, and in one scene they all appear together. Here ST922 (GJ2098, a 1930 Tilling ST) overtakes STL441 (AXM693, new 1934), with ST2377 (EGO426, new 1937) facing them. The overhead shot is unusual!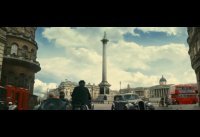 ....but this is ST2377: