Stuart Turner notes this entertaining film features many British comic actors in the vein of a Carry On film;
"As usual, they are short of money and look for some part time work with orchestras in Yorkshire, which are all performing the Messiah at the time! Must have been around Christmas. A clip of film shows Alexander PRD17 (FMS 734), a Leyland Tiger Cub/Alexander pounding up a fairly steep hill - sounds good. A few seconds later there is clip of an A4 hauled express:"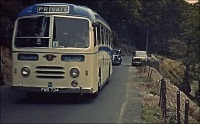 "At the end of the film there is a shot of the gates of the academy beyond which is a main road. A Burlingham Seagull-bodied underfloor engined coach passes by; this could be a Timpson's or, possibly, Suttons vehicle, by the position and style of the fleetname - above the front wheel. This is followed by a Duple A type half-cab coach, possibly in blue grey colours - the colour wasn't too good. This put me in the mind of Horseshoe Coaches livery - but it's only an idea."
(these two are only very briefly glimpsed)