"Cuba Gooding Junior steals an MCI MC-9 coach [with fleet name Grande Charter] filled with Lucille Ball impersonators.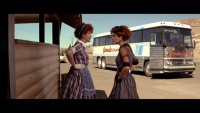 The bus eventually has a flat tyre and overturns."
(thanks Bruce Korusek). Whoopi Goldberg and Lanei Chapman are bundled on board a school bus-type International: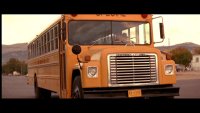 At the end of the movie all the stars find themselves aboard a British open topper, again driven by Cuba Gooding Junior.