Unpleasant film nevertheless has a strong performance by Michael Caine. A Big Bus Company Daimler Fleetline appears briefly early on, and there are glimpses of other London buses, including what appears to be Stagecoach London VA67 (R167VPU), a Volvo Olympian/Alexander, one of two seen on route 8.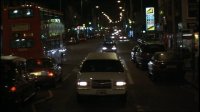 - also Metroline, the Original London Sightseeing Tour and First London, and Clarkes of London and Coopers (?):
"the scenes with the outemasters were shot on Sunday 13th February 2000 on the Aldwych just by the junction with Catherine Street. Luckily I was in London that day and just walked round the corner from the Strand into a crowd of people watching the filming, there were two, WLT642 with blinds for route 68 was driving round the block and chasing Michael Caine, whilst the other parked by the kerb for it to pull up along side was XMD81A blinded for route 6."
. RM642 was in preservation; RM429 (XMD81A) was at that time owned by Capitalise of Battersea, and also appeared in
102 Dalmatians
.