Filmed in Bolton and showing a glimpse of at least one Bolton Corporation Leyland Atlantean/East Lancs. (thanks Alan Sinclair)
"Some footage in this film shows the characters on a bus. To film this the interior of the Leyland Atlantean demonstrator with Sheffield style Park Royal bodywork registered KTD551C was used. This event was the subject of an article in the Leyland Journal of that time."
(thanks Chris Hough)
Stuart Turner adds
"Bolton Corporation Metro-Cammell-bodied Leyland Titan PD2/13, 82 (JBN 158) is clearly shown, followed by an unidentified Atlantean, but clearly a Bolton example, andvarious other PD2s take a supporting role. An excellent example of location filming from this period, which makes these films all the more interesting."
Bolton Corporation 82 (JBN158), a Leyland Titan PD2/13 with Metro-Cammell body, is clearly seen: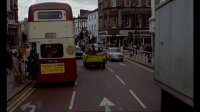 We also see Bolton Leyland Atlanteans and more Leyland Titans: