"Harold and Albert board a Green Line coach after visiting their horse, Hercules, who has just been retired in a horses' rest home. I think this may have been an RP class coach [AEC Reliance/Park Royal]."
(thanks Alan Sinclair). Jon Price confirms it as RP34 (JPA134K).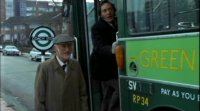 (screencap by stronghold)
Chris Brown adds:
"At an early point in the film when Harold is out collecting, appearing in the back ground past the cart, is a grey painted Bristol KSW parked on the 'wrong side' of the road. I believe that may have been Bristol KSW5G/Eastern Coachworks HWV294, which was owned by Location facilities and used for catering. I believe they bought the bus after service with Wilts and Dorset, and it was in use up to 1978 when I saw it in Dunstable with Tricentrol Coach Sales. It is now owned by my brother.
Also in the same shot, a red/cream liveried Plaxton coach is seen crossing at a road junction: if I am correct this could have been a vehicle owned by Birch Brothers of London NW5 and would be either NYM30E or NYM31E. Birch Bros had a contract with the BBC, which involved transporting stars and extra for locations for filming. My father occasionally drove the contract vehicle when in London. When Birch sold out to Grey Green, the contract was operated by Link Line of Harlesden and subsequently their vehicle could be seen in background shots of BBC productions."