Ugly film opens with a bus station and a line of Greyhound GM Buffalo buses: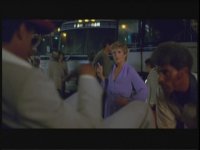 Alan Aron reports
"The story takes place in Los Angeles in the early 1980's and involves a prostitute (Hubley) setting up a sting for the cops to catch a malicious pimp. The last chase scene takes place at night on the actual Los Angeles streets. As they get near the downtown area there is a glimpse of an SCRTD bus yard on the right side of the film with several Flxible New Looks."
Several Greyhounds are also parked up, but it's dark!