Bob Wingrove found this gem, based like 'The Ghost Train' on a stage play by Arnold Ridley (Private Godfrey of 'Dads Army' fame)
"The plot is that someone is wrecking the railways for some reason. Meanwhile coach firms are cashing in, one in particular is the Kyle Coach Corporation, which is run by the man who is wrecking the railways; he is also very senior in one of the railway companies."
"The film is famous for the most spectacular train crash ever filmed, done on the Basingstoke to Alton railway (which was also used for 'Oh Mr Porter', they still found debris from The Wrecker when they filmed that too!). The train crash was filmed form 28 different locations so that all the train crashes in the film are the same one from different angles - very clever!
There are some nice Associated Daimlers used from the same batch; UC2203/6/7 are the ones that can be positively identified. These are ADC 416 single-deck, 28-seater, 'all weather' motor coaches. These were part of the LGOC private hire department:"
"There is also a normal control coach KW9869 which might be also an Associated Daimler but I'm not sure. This is a Bradford registration.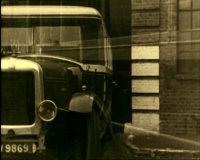 The last shot is a London Street scene with an unidentifiable double decker."
[I believe this is an AEC K]: