Episode 2.13: Oh What a Night!
Former London General Metrobus/MCW M176 (BYX176V), by then owned by Actionbus, appears on route 35 as prison inmate Nikki makes a break for freedom for the night. The same bus appeared in undercover police drama
In Deep
.:
Like all the best plot devices, the ticket from Nikki's excursion only appears 15 episodes later, when it's discovered during a search of a cell: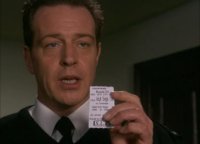 Many thanks to e kline.