Features a cgi and real life yellow LDV Convoy school minibus operated by (fictional) McCredie's Transport with the (fake) registration BALAMOR1.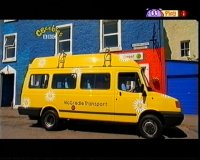 Filming is mostly at Tobermory on the Isle of Mull. I need to confirm the real minibus registration - it may be T855MDH. (thanks Denise (and William) Annells)
Episode: Horsepower
Miss Hoolie sings a musical number partly set aboard an opentop AEC Routemaster of Mac Tours: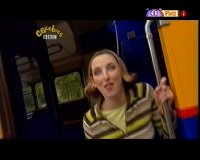 Another programme in this series for preschool children has kilted inventor Archie visit to 'the Big City', which is in fact Glasgow, complete with red First Glasgow doubledeckers, plus a Barbie 2 liveried singledecker and two Barbie liveried Volvo B7/East Lancs Nordics.
The 2003 Christmas special has teacher Miss Hoolie and school bus driver Edie McCredie catching a large snow 'bus' across the snowfields of Iceland.