Much loved family show between 1971 and 1973, set on a farm serving as a retirement home for old or unwanted horses. Rob Sissons (who provided the screenshots)notes the following:
"The emphasis is more on horses than on buses, but there are a few bus shots:
Episode 1.8: 'Moonstone':
(transmitted 16/8/71) A young girl called Callie (Gillian Bailey) steals a horse from a circus where she thinks it is being mistreated. When she walks around the fairground where the circus vehicles are parked, a coach is visible; it is later seen in a convoy on the road with other circus vehicles. No registration number is visible but it looks like a Plaxton Panorama Elite body!
Steve and Ron (Steve Hodson and Christian Rodska) are dressed up as medieval knights and participating in a jousting tournament at a village fete. When the camera pans over the scene, three coaches are seen parked in the background, but they are only momentarily in view and the camera is focussing on the jousting! I think they could be Wallace Arnold coaches: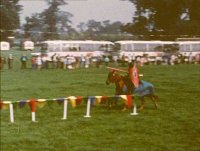 Episode 1.13: A Day in the Sun:
(transmitted 13/9/71) Steve Hodson gets a bus to visit his grandmother. It is 835BWY, a West Yorkshire Bristol MW."
[an MW6G/Eastern Coachworks new to West Yorkshire in 1963 fleet number SMG27]
"There is a great exterior view of the bus with registration clearly visible!
(transmitted 20/8/72) The staff of Follyfoot are attending a showjumping event. A Wallace Arnold coach is seen parked in the background (registration number not visible but looks like a Plaxton Panorama Elite body)."