Episode 2.06: Basingstoke

Geoff Cook notes from the USA: "Watching Ground Force, filmed in Basingstoke. Beginning of show Alan Titchmarsh gets off a Stagecoach double decker numbered 7446, or it could be 7448."
Malcolm Rennie also remembers the show: "I recall seeing the programme and remember Titchmarsh getting off an ECW bodied Bristol VRT in Brackley Way on the South Ham estate in Basingstoke."
Reviewing the footage reveals the VRT is 7446 (LFJ874W), a 1981 VRTSL3/Eastern Coachworks new as Devon General 1227, but transferred to Hampshire Bus in 1988, where it became Stagecoach South 446 in 1992, later 7446: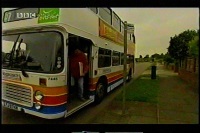 There are several appearances by Stagecoach South Alexander bodied Olympians, but not clearly enough seen to tell whether there are several or just the one driving past repeatedly: