Episode 5.08:
This episode from 1990 features former London Transport Scania Metropolitans/MCW MD98 (OUC98R) and MD99 (OUC99R). The action mostly takes place aboard MD99. It's blinded for route 15, but at one point is passed by an AEC Routemaster on the real route 15: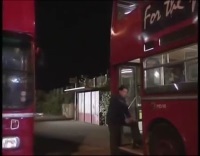 (thanks Graeme Selway)
"I remember an episode of In Sickness and in Health where Alf Garnett and his son in law are going to London by train. For a while, through the window in the background is a section of motorway, and the train runs alongside what appears to be a Yelloway Motor Services Plaxton Panorama coach"
(thanks Howard Berry)