London Transport Leyland B20 Fleetline/MCW DMT2489 (THX489S) and DM2639 (THX639S), also Daimler Fleetline CRL6/MCW DMS1657 (THM657M) (operating for the fictional 'Antelope Lines') were in an episode involving a depot fire. (thanks Graham Selway)
In another episode another B20 DMS2264 (OJD264R) (also operated by 'Antelope Lines') is hijacked by joyriders. After a frantic police chase it is driven under a low bridge and loses half of its roof.
"Along its path it smashes into cars, runs police vehicles off the road and the Blue Watch team have to rescue the survivors of the smash.
(thanks Alan Jones). Discussion on the London Bus Group Yahoo discusssion group has found that two B20s were bought by Euston Films for this episode. Although DMS2264 is seen on the road, the bus seen deroofed in the crash scene is D2254 (OJD254R). This, then is DMS2264.....: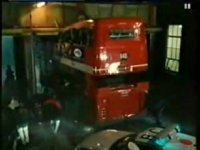 (thanks Keith Nason)
"In the first episode of the current (2002) series a First London double-decker in Capital Citybus colours is seen passing 'Blackwall' fire station (actually Leyton fire station)."
(thanks Stephen Osman)
"In the episode shown on 11 August 2002 the Blue Watch team go on a day trip to Southend with their families. The vehicle used was LAG coach RIB4315 in red/white livery and with 'Blackwall Coaches' fleetnames."
(thanks Stephen Osman)
Season 4 Episode 5
A coach driver is distracted by the children on his coach and crashes down an embankment.
Graeme Selway found this observation on a PSV Circle news sheet: "Beeston, Hadleigh. The two vehicles were sold to Thames TV for use in an episode of 'London's Burning'. KGV 39P was wrecked in the episode, but KGV 38P was kept as a spare for retakes and was then resold." The two vehicles in question are/were Bedford YRTs with Plaxton bodies.