Little-seen cult four parter thought to be the inspiration for the 1997 movie 'The Game'. Also notable for an appearance by this preserved 1968 built BMMO S23, Midland Red 5919 (RHA919G):
"I was in the Worcester Bus Preservation Group in the 1980s. We hired out BMMO S23 no.5919 to Central TV for a TV series (which was very odd and no-one understood it).The bus was used as normal Red 1968 BMMO livery, with a black WENDAWAY fleetname added middle panel. Wendaway was the local MAP name used by Midland Red in Kidderminster. Removing the stickers pulled off loads of paint, as they forgot to use grease underneath."
(and in any case this fleetname isn't visible in the footage)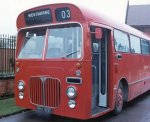 Chris Martin adds:
"I remember you, me and Tony Chance went to Arbury Hall near Nuneaton, when it £$@£d down with rain all day, the only redeeming point being the roast beef dinner enjoyed on the top deck of the hospitality bus."
[Chris Sampson identifies this as 815SHW, a former Bristol Omnibus Bristol Lodekka/Eastern Coachworks]...
"We then went to Ragley Hall for two days and a lane between Studley and Coughton Court was used for the filming. It was quite cold, and an actor called Kevin drove the bus. Although we made the bus available for three days, we were only paid for two, and the end result sees the bus in shot for only about 30 seconds. However for £150 a day, it was financially rewarding."
Chris Sampson also observes the PSV badge worn by the driver was AZ721, the badge worn by Stan in
On The Buses
.