Regular background in two seasons is this wrecked former London Central Leyland Titan, formerly T1033 (A633THV):
....and in the same corner of the yard is this minibus: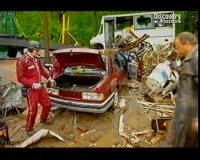 "Earlier series of Scrapheap Challenge and its US equivalent filmed in Britain were made in a scrapyard that contained the wreck of an unidentified coach."
(thanks Stephen Osman)
Stephen also reports
"In the episode of the current (new) series (filmed this season in a new scrapyard near Reading) broadcast on Sunday 6 October 2002, the two teams of 4 were given the task of building a 'blind-navigation vehicle' in which they had to drive around a pre-set course with the windows of their vehicles painted out. One of the teams opted to do the conversionwork on a 3-axle Talbot Freeway minibus registered L113FOJ! The bus was yellow with a single green stripe on each side, and a white roof and was of B-DL layout (with the seats and rear door wheelchair lift missing already) and was probably a former non-PSV vehicle. During the 10-hour conversion, the vehicle was fitted with a scrap-built retractable turntable under the centre floor, which was lowered on chains and raised with 2 manual trolley jacks to lift the bus, which was then turned by hand from inside. To measure the distance travelled, the bus was fitted with a giant wind chime on the side of the rear bodywork which was "bonged" by a metal bar welded to one of the rear wheels. For the competition the following day, both teams' vehicles had all their windows painted over, but the end result was that L113FOJ was beaten by the other team's converted vehicle: Bedford ambulance NYR710Y!"
Answering Graham Selway's request on the uk-bus-fleetnews Yahoo group, Ken Lansdowne identifies L113FOJ's original owner as the London Borough of Barnet. Stephen Parker also notes an LDV minibus in the show.
In another show involving construction of a clockwork car, Bob Wingrove notes footage of
"one of the Swiss built Oerlikon gyro buses in service, this is the first time I've ever seen film of these buses running. It showed the bus pulling up at a stop and the three arms on the roof raising to charge up the flywheel."
Adam Floyd reports on the 2005 second semi-final:
"a most thrilling challenge to build and race drag trucks! The vehicle of choice for the Power Lifters was Leyland Leopard/Duple WRO433S (new to Guards, London W1); apart from a crushed roof, it didn't look too bad and still had a decent set of seats. Shorn of its body and with a monstrous truck engine mounted on top of the chassis frame, it powered them to victory against the Big Dippers' twin-engined Ford Cargo!"
A further show opened with one of the teams riding (and driving) this opentopper: