Opening credits feature a passing New York RTS: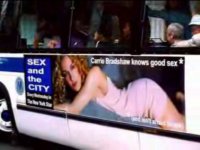 Alan Aron notes the bus
"was a rental from a movie prop supply company located in Brooklyn NY by the name of Picturecars.com. It was modified with special glass so that the glare of the kleig lights used to film the show would not reflect off the glass. If one looks closely, all the passengers face forward and don't seem to notice the bus splashing Carrie Bradshaw, played by Sarah Jessica Parker. Also during the opening credits the camera is racing down Fifth Avenue. There is a quick shot of an Eagle 10 up ahead. I believe that this RTS bus has also been rented out to Law and Order for many episodes as well as the movie 'As Good As It Gets' starring Helen Hunt, Jack Nicholson and Greg Kinnear."