This programme looking at the notorious Grunwick strike of 1976-1977 has archive footage of the buses and coaches used. The main buses used by Grunwick to transport non-striking staff through the picket lines were former Brighton Corporation 1 (5001CD) and 6 (5006CD), Leyland Titan PD2/37s with Weymann body still in blue/white Brighton Corporation livery. This is 5001CD: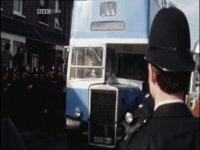 In one scene 5006CD passes a London Transport AEC Routemaster/Park Royal from the WLTxxx batch.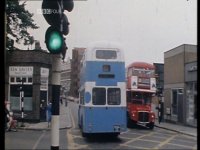 A third bus seen clearly is a London Transport RF class AEC Regal IV/Metro-Cammell, RF406 (MXX294):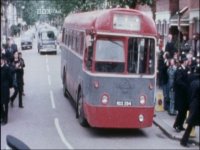 Other vehicles seen are several green Metropolitan Police Bedford VAS/Duple Midland, a Rickards Plaxton Elite III coach, two Grey Green coaches, one with Plaxton Elite III body, the other with Duple Dominant, a white/blue Plaxton Elite coach and a two tone blue BET Federation style single decker bus.