Life and opinions of bigoted Alf Garnett and his longsuffering family.
Episode 4.03
The Garnetts go to Bournemouth on holiday. While they're in the taxi to the hotel we see this Hants and Dorset Bristol Lodekka FLF through the back window in an unconvincing back projection: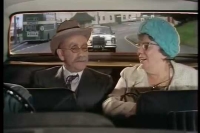 Episode 7.03
Chris Ivory recalls "Prototype London Transport Routemaster RM3 (SLT58) made an appearance in an episode of 'Till Death Us do Part' in the mid 1970s, in a story where Alf Garnett coaches his next door neighbour, Bert in getting fit by running. I recall that they get chased by the bus through the cobbled streets of pre yuppification Docklands Wapping and have an altercation with the conductor."