Episode 1:
Views in London of Routemasters - one in daylight led by a Leyland school bus, the other at night;
Rob Sissons notes
"I have a strong recollection of an episode of 'Tinker Tailor Soldier Spy' starring Alec Guinness as spy George Smiley (after the book by John Le Carré), broadcast in about 1979/80. In one episode George Smiley was getting a ferry from Dover and in the background East Kent AEC Regent V GJG747D could be seen! This bus was then in use as a courtesy bus taking foot passengers to and from P and O ferries and was in P and O livery, making it easily recognisable. I have a feeling that other East Kent buses (possibly Alexander-bodied AEC Swifts of the YJG-K batch) may have been briefly visible in the same shot!"
I can vouch for the Regent V; GJG747D was new in 1966 with Park Royal body.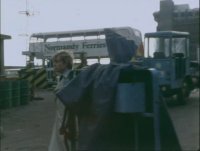 Couldn't see Swifts, but there is a Wallace Arnold Leyland Leopard/Plaxton: