1978 follow up to 'The Upchat Line' with Robin Nedwell replacing John Alderton.
Episode 3: Mystery Tour:
Mike Upchat takes over a coach tour of London complete with tourists. Unclear what the coach in background is, but the coach they board is LBH292P (Bedford VAS5/Duple Dominant) in the livery of its original owner, Ashford Luxury of Bedfont: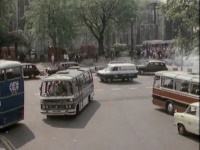 Also glimpsed is the rear of Rickards XGS738S, a Plaxton Supreme bodied Leyland Leopard.