Episode 3.3:
Chris Hough notes:
"Near the beginning Boyd is looking out to sea pondering a lost cockle boat while below him you can see a Mercedes Midibus. The episode looks like it is filmed around the cockle sheds at Leigh on Sea, but I am not well enough acquainted with the area to know which companies operate in that area." Here's the shot, can anyone enlarge on this?

"In the episode shown on BBC1 on 6 October 2003, one of the characters was shown boarding London Routemaster WLT576. Unfortunately the bus was only seen from the rear and interior, however the sound effects were pure AEC!". However, Ian's Bus Stop has RM576 (WLT576) as scrapped in 1985, so is this a faked plate or a reregistration?

Episode 4.2
Chris also notes "The episode shown Monday 12 July 2004 featured a suspect boarding a Dennis Dart in an all red livery. The bus was chased on foot by one of the detectives investigating the case. The bus was devoid of fleetnames." This was former London Buses DT1 (G501VYE), a Duple Dartline-bodied Dennis Dart, by then with Mediabus of Romford"
: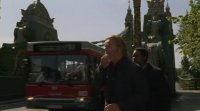 As the chase progresses across Hammersmith Bridge, the Duple Dart is passed (twice! continuity glitch) by Armchair DA146 (T146AUA, a Dennis Dart/Alexander) travelling in the opposite direction on route 209.
Steve Bunce reports a scene
"on the platform of a moving Routemaster between Trevor Eve and David Walliams. Couldn't ID the bus - did anyone else get a view of it?"