Advertisements 0
3
A 2006 ad for mobile 'phone network 3 features this triple decker bus (shame we don't see the front):
---
118 118
Stupid campaign for this telephone directory enquiries service included in summer 2004 an ad shot driving through the streets of London. Several buses are glimpsed, including a Routemaster and a London United Alexander-bodied VA-class Volvo B7TL
A much better 2009 ad uses the 'Ghostbusters' theme (who you gonna call?) and brings back Ray Parker Junior to sing it, in various guises, including a bus conductor: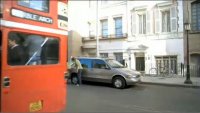 ---
2001 Census in the UK
A promotional film in Wales for the 2001 Census featured Arriva Cymru MMM523 (N523DCC), an ex Williams of Deiniolen Mercedes 811D/Wright.
---
2001 National Eisteddfod
A trailer for BBC Wales coverage of the 2001 National Eisteddfod featured Newport Transport Leyland Titan PD2/Longwell Green PDW484. (thanks Glyn Bowen)