Advertisements A
---
Adler Cheese
A 1920s ex Porto Brill tram belonging to an Buenos Aires enthusiast organisation, featured in an early 1980s publicity campaign for this Argentine cheese brand. The tram also appeared in a TV film on Alfonsina Storni. (thanks Carlos Wallberg)
---
AM Cereal Bars
"Features a man running for a Routemaster. He fails to get aboard as when he reaches the bus the conductor nicks his cereal bar, rings the bell and the bus drives off." (thanks Graeme Selway)
---
American Express
Great Britain
opens with a London Transport Routemaster. It features Jerry Seinfeld and another Routemaster on service 137.
A 2005 ad features Kate Winslet, and her face on the rear of a London bus, identified by Steve Way as a
Sullivan Buses
Plaxton President.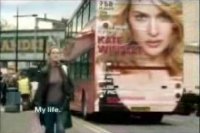 ---
Anchor Butter
A 2007 advert features this Dennis step entrance singledecker - can anyone identify it?
Richard Berry queries whether this might be a New Zealand bus with Hawke body?
---
AOL
A 2005 ad has a brief background shot of an Arriva London double decker
---
Argentine Department of Transport
An advertising campaign for the Argentine National Department of Transport (CoNTA) features a bus painted all black, lettered as fictitious route 666, to promote their free phone number. (thanks Carlos Wallberg)
---
AT&T
A 2004 US advert features smart Regional Transit Service, GMC T8J204 3011 in New York Metro livery, but actually shot on the New York Street set at Paramount Studios, California.
---
Audi
Chris Hough notes "an advert for Audi cars filmed in London where the other cars appear as thirsty fishes! In the background is a clearly seen Metroline lowfloor double decker vehicle. The sequence is filmed at night so further clarification is not possible."
---
Aunt Bessie's - Steak Pie
Featuring an escaped pet rabbit and a red Dennis Dart/Plaxton Pointer - I now believe this to be from Arriva London.
---
Autotrader
Stupid advert lampooning 'phone directory service 118 118 purports to shows one of the 118 118 runners chasing a Routemaster on route 118 to Morden Station (thanks John Hewitt)
---