Advertisements R
---
ReadyBrek
Chris Hough notes a 2002 advert for Readybrek breakfast cereal featuring a green/cream single decker, possibly from Newport or Blackburn?
---
Redbus Bingo
2010 advert for this bingo website features a lot of (poorly drawn) cartoon red buses and Sullivan Buses AEC Routemaster RML2272 (CUV272C)
---
Renault Megane
Ad for the car that reinvented the Ford Anglia has brief footage aboard an unidentified transit bus; it's not clear where this was shot.
---
Right Guard
Deodorant advert from circa 1989 has a man standing downstairs on a London Transport RT family bus and extending an arm to press the bellpush. Three lady singers sniff his armpit!
---
Rimmel
An ad features a London Transport AEC Routemaster with a Rimmel advert on the side.

A 2008 ad campaign for Rimmel London featured singer Sophie Ellis Bextor stepping off Sullivan Buses AEC Routemaster RM1069 (69CLT). Filming took place in Kensington, London.

A 2009 TV ad has a bright pink Alexander Dennis Enviro 400 in the background.
---
Rogers Video Stores
"Speed" - this spoof on the film has a woman hurling herself onto the verge from a passing GM New Look to return her rented videotape.
The vehicle is Oakville Transit 8134, a 1981 T6H-5307N GM New Look in a 1970s Washington Metropolitan Area Transit Authoritylivery.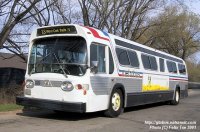 This photograph appears thanks to Felix Tse.
---
Running for a Bus
1967 UK Public Information Film: a woman runs to get on London Transport AEC Routemaster RML2437 (JJD437D) and ends up under a car. External and internal views of the bus:
---