Music Videos E
---
Eels - Mr E's Beautiful Blues
The song features in the film Road Trip; the video co-stars 'Road Trip' star Tom Green and a bus.
---
Missy Elliott - Gossip Folks
Last minute of the video is filmed mostly aboard a Crown Coach school bus. Daniel Dey provided this screenshot: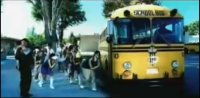 ---
Eminem - Just Don't Give a $£%@
A disused bus used as a caravan.
---
Everything But the Girl - Missing
At least two London Buses Dennis Darts - one is shown twice!
---