Music Videos R
---
Gerry Rafferty - Baker Street
Glimpses of two London Transport AEC Routemasters.
---
Rancid - Red Hot Moon
Ska/punk crossover sounds somewhere between the UK Subs and the Stranglers (oops, showing my age) - meantime a punk girl travels downtown on an NYC liveried RTS. In the last shot the RTS has the destination 'Somewhere Else'.
---
Eddi Reader - Patience of Angels
Remember children - don't try this at home - the former Fairground Attraction folkie is seen, dressed as an angel, riding on the roof of a London Transport AEC Routemaster on route 73:
---
Red Hot Chili Peppers

By the Way
Carlos Wallberg notes two appearances by a white/orange RTS during the video. This is 2363 of Regional Transit Service , a TMC T8O206.
Californication
In a CGI sequence two transit buses collide, and another is seen later in the same sequence.
---
Rider featuring Terry Venables - England Crazy (Swing Version)
Also features First London's opentop AEC Routemaster RM120 (SSL809) and a swing band, touring round London (especially Trafalgar Square).
---
Rolling Stones - Love is Strong
New York transit bus filmed in monochrome.
---
Roxette - Joyride
Ends with a large silver American motorcoach in the desert, but you don't get a very good look at it!
---
Bic Runga - Something Good
Bryce Pender reports a Stagecoach Wellington Leyland Leopard of the 400 series passing in the background: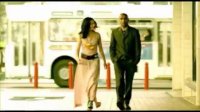 ---